Little River unfortunately has a long history of flooding easily during heavy rain events due to the catchment area of the many valleys it contains. This is a serious concern both for the community that is directly affected and greater banks peninsula that can become isolated due to the arterial function of the main road through the town of Little River that can become impassable.
The solution:
While there is no single solution to the risk of flooding in the area, through co-operation and the collective efforts of the stakeholders below it is our hope that we can mitigate potential outcomes of serious flooding as much as possible.

The Stakeholders: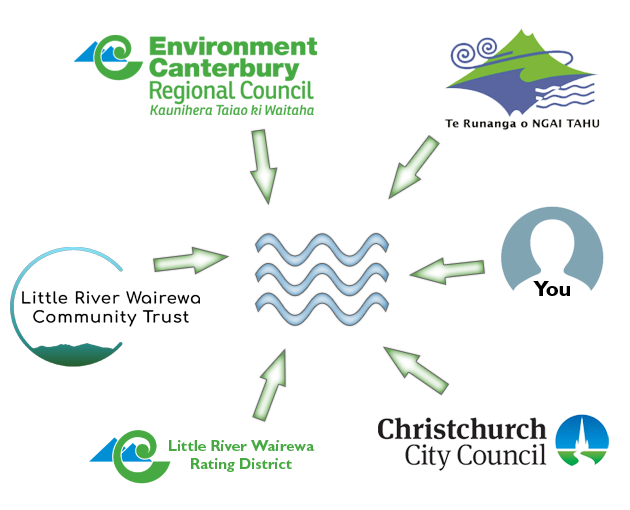 Ecan:

Ecan have contributed to riparian planting and management of potential obstructions in the streams that helps prevent erosion in partnership with the water rating district group to assist with their efforts. They also work in partnership with the Runanga in decisions around management of the lake levels etc. taking into consideration various factors such as lake health and flooding risk etc.

CCC:
Currently the CCC are undertaking a set of drainage improvements along the main stretch of the road outside the little river shops in an effort to alleviate flooding on the immediate area during peak rain events.

Wairewa Rating District:
The Wairewa Rating District has been running since 2015 as part of a community led initiative to drive further efforts in managing the streams and rivers and provide additional maintenance of our streams and rivers. It is funded primarily by a targeted component on the rates per parcel of land in the Little River catchment area.

Their official brief is as follows:

To reduce flood risk to Little River, Cooptown, and the Okana, Okuti,
and Takiritawai River floodplain areas, by managing riverbank tree
growth, and removing tree and debris channel obstructions.

This work must either complement, or not conflict with, other
catchment management objectives such as river erosion control,
reduced stream sedimentation, and enhancement of Te Roto o
Wairewa/Lake Forsyth water quality.

The investigation of other flood risk reduction methods, such as
development of secondary flow paths and floodways, stopbank or
bund construction, flood proofing of buildings, and flood warning and
evacuation planning, will be progressed as a lower priority as funding
allows.

Runanga:
As the traditional custodians of the land our local Ngai Tahu Runanga take their care of the region very seriously. They work in partnership with Ecan for example in co-ordinating the opening of Lake Forsyth to the ocean to maintain appropriate lake levels.

You:
Examples of plantings that can be undertaken in valleys and around rivers to slow peak flow of water and prevent erosion.
Private land owners with piles of willows dredged from the river via previous water rating board efforts should plan around a safe time to burn these piles off to remove the risk of the debris being swept up and creating a blockage in an extreme event.

Be prepared for an extreme event, have a plan in place for how to respond should you be stuck at home or become isolated from your home. Keep an emergency kit ready.

Other ideas?
Resources:
ECAN Little River/Wairewa Floodplain Investigation 2020

The following diagram is of a proposed culvert design to go alongside the Kinloch bridge which can become a bottle neck for water during peak flooding events. It would be able to take an additional 4000 Litres per second during scenarios where the water level rises to the height of the bridge, potentially saving the township along the main highway being flooded and locking off access to the rest of the peninsula. Currently this suggestion would require a feasibility study be undertaken at the local government level before it could progress further.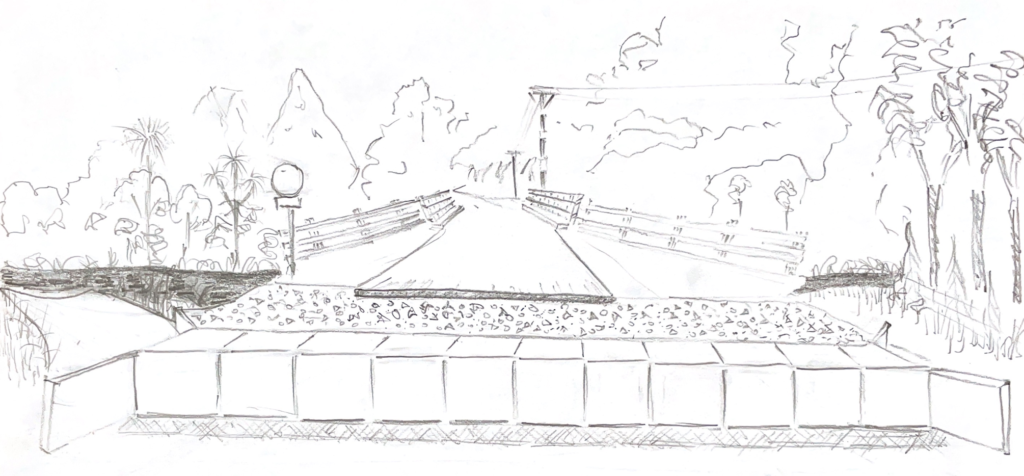 Contacts at various organizations