ANNUAL EVENTS
23
January 2021 – Saturday –BANKS PENINSULA A&P SHOW – The Banks Peninsula A&P Show at Little River is one of the most popular A&P Shows in Canterbury. Like many local shows, the annual event at the picturesque Awa-iti domain in Little River  is the highlight of the year for many local farmers, growers and producers.
The Little River A&P Show gives them  the chance to show the very best of what the district has to offer to the rest of the rural community as well as the hundreds that travel to the event from the rest of Canterbury and beyond.  Go here to plan your Show Day and get Schedules and book trade space.  Buy your Tickets on line or at the gate on the day. www.littlerivershow.org.nz   Plan your day here
Saturday 23  January 2021.  Gates Open 8am, Awa-iti domain, Akaroa highway
---
Little River Farmers Market – Little River Farmers Market  will be operating every Sunday  9am -1pm in the space between the Little River Gallery and Silo Stay.  (weather dependent
 A 3x3m stall is $20  and Richard is still keen to hear from any local growers who would like a space.
All profits raised through the year will be donated back to the community.
All enquiries to Richard and Alex  email littleriverfarmersmarket@gmail.com
---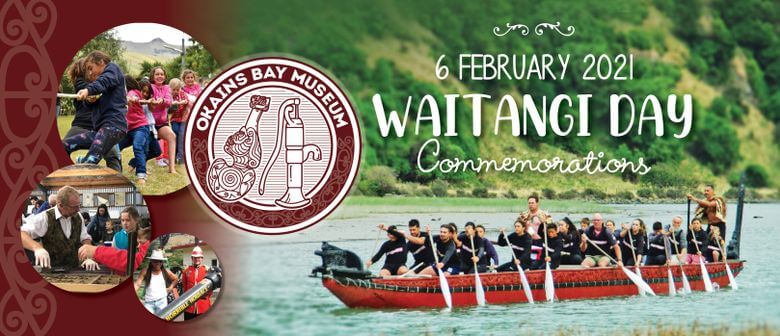 6 February 2021 – Saturday – WAITANGI DAY AT OKAINS BAY – A great family fun day out in Okains Bay. Events include a traditional Maori welcome onto the Marae, a magnificent carved Waka being paddled up the river, colonial displays, exhibits, crafts, vintage engines, printing presses, children's games, a traditional hangi lunch, music and a garden bar and so much more.   Okains Bay Commemorations
Nau mai, Tautī mai.  Join us at the Okains Bay Māori and Colonial Museum for a family day to commemorate the signing of the Treaty of Waitangi. Highlights include a pōwhiri (traditional welcome),
The Waitangi Day commemorations at Okains Bay are the longest standing in the South Island with 2020 being the 45th consecutive commemoration.  Gates open at 9:30am.   Pōwhiri (traditional welcome) commences at 10:30am.  Waka paddling at 2pm.  Entrance Adults $10, Children $2.00.  Please bring cash. No ATM available.
Please phone the Museum for more details 03 304 8611.  www.okainsbaymuseum.co.nz 
---
MARCH
---
6 – 14 March 2021 –  Seaweek –  Kaupapa Moana is New Zealand's annual national week celebrating the sea.  Hosted by the NZ Association for Environmental Education (NZAEE), Seaweek focuses on learning about the ocean because it is so important t
o all our lives, no matter how far you are from.   Our mission is about exciting and inspiring all New Zealanders to renew their connections with the sea! This is not just for children or those involved with formal education – it's a time for all of us to get to know our ocean, its habitats, characteristics and inhabitants better.
We are using the following theme Connecting With Our Seas and whakatauki:  Ko au te moana, ko te moana ko au  –  I am the sea, the sea is me
 https://www.seaweek.org.nz
---
20 March 2
021  Le Race–   Check out developments on website here
This annual cycle race starts in the middle of Christchurch at 7.30am for the pre-race briefing and then it's all go at 8.00am. The finish line is in the centre of Akaroa, followed by prize giving on the Akaroa recreation ground. Make a weekend of it by booking into 1 of the many wonderful B&B's in Akaroa and enjoy a family weekend away. Be warned! This is not your ordinary 100 km race. Hugely popular across all abilities, amazing views and more hills than you can shake a pump at. Go to website here 
Introducing Le Race Petite!!! This is the perfect race for those not quite ready for the full 00km traditional Placemakers Le Race course.  Starting at 8.05am in Cathedral Square, the course follows the same route as the full length race, but ends at Little River.  This event has all the same features as Placemakers Le Race including timing , spot prizes and entertainment at the Little River finish line.  (Must be 15 or over at event date.  Contact for Little River Prize Giving Robyn Twemlow <robyn@tourettes.org.nz> The Little River Wairewa Community Trust will be putting on a sausage sizzle for any hungry cyclists or supporters before the prize giving.
---
APRIL
---
 April Easter Sunday 2021 Easter Egg Hunt a 2pm (details to be advised)
Contact Fiona McLean organiser if you would like to be involved. email lrwctrust@gmail.com.
Organised by  the Little River Wairewa Community Trust
---
Saturday  25 April 2021 – ANZAC DAY – Further details to be advised)
Anzac Day is celebrated in Little River with a Service in the Little River Community Centre at 9.30am followed by
a march to the War Memorial Gates for Wreath laying and returning to the Community Centre for Morning tea.
The Little River Memorial Boards are on permanent display in the Waiting Room of the Little River Railway Station plus  a special Anzac display if anyone would like to come and have a look after the Anzac Day Service and Afternoon Tea
---
18 April 2021 – Sunday.   LITTLE RIVER PUMPKIN FEST – Each year the Little River Support Group organise The Little River Country Bumpkin Giant Pumpkin Festival. Hundreds of visitors and competitors are attracted to Banks Peninsula from all over Christchurch, Canterbury and around the South Island. International tourists to New Zealand also enjoy the festival as they travel through Little River and stop to investigate.
The festival aims to be a family fun-filled afternoon in a stunning country setting. Entertainment including music and dance, competitions (such as children races, gumboot throwing, bottle stalls and chocolate wheels), country stalls and sideshows, food – especially the famous Little River Pumpkin Soup – and of course some amazing pumpkins.
There are some fantastic prizes on offer for all the pumpkin classes and competitions, plus a great prize draw. More details of prizes will be posted on this website nearer the day.  If you would like a stall contact Serena  email pumpkinfeststalls@gmail.com
Held in April each year.  www.littleriverpumpkinfest.co.nz  Facebook page   Instagram page
---
August – Saturday – PLAYCENTRE QUIZZ NIGHT –  the Little River Playcentre Annual Fundraising Quiz Night.   Doors open 6.30 for a 7pm start at the Little River Community Centre. Entry Fee $60 per team (limit of 4 people per team).  Auction and Raffles will be held on the night with some fantastic prizes.
Delicious platters are available to pre-order.  $30 Antispesto platter for 4 people veg and Gf options.
Please register your tea and order meals by email to littleriverqiiz@gmail.com or contact Rebecca on 021 1708983 for further detail.
---
August 2020 – LAKE FORSYTH FLOAT AND FIELD DAY – UNDER COVID-19 LEVEL TWO:   Pre-registered fliers only. No spectators
We are going ahead with our annual fly-in at Lake Forsyth, but restricting attendees to registered fliers (MFNZ Wings) only in order to keep the number below 100, as per government guidelines.  There will not be room for public and non-fliers.
If you wish to attend you will need to pre-register with Peter Hewson (peter.a.hewson@gmail.com, or 0220884766) before Thursday evening, 27 August. Send your name, cell phone number and MFNZ number.  Registration will be completed at the site.  Fees are $20 for the weekend. Pilots get free tea and coffee and there will be food and drinks available for purchase.  If you wish to camp at the site the City Council require that your camper is self-contained. We will have toilets at the site too.
To read full information go here
Contact Peter Hewson 022 0884766 email jilhewson@xtra.co.nz     http://www.radiofliers.org.nz/
---
SEPTEMBER
12 September 2020  – Saturday – TAKAHE TO AKAROA ROAD RELAY – Celebrating 79 years the annual Takahe to Akaroa Road Relay organised by the Athletics Canterbury Cross Country & Road Club. The first teams are expected to arrive at the Recreation Ground, Akaroa at approximately 2.00pm. The prize giving will begin at 4.00pm at which time the fastest team into Akaroa will present the baton carrying the message from Christchurch Mayor Lianne Dalziel to a representative of the Akaroa/Waiwera Community Board and Akaroa District Promotions. This year the event is the National Road Relay  and we expect approximately 800 athletes.  check website out here
---
FLOWER POWER GARDEN TRAIL – held bi annually Labour Weekend Sunday 24 and Monday 25 October 2021 –  10.am to 4.00pm.  In Little River and Birdlings Flat, Banks Peninsula.
Explore 14 diverse gardens, 3 of which are new to the event this year. From beach-side gems in Birdlings Flat to lush valley producers of proteas, herbs, hazelnuts and berries. This year a must-see is the park-like grounds of Kinloch Estate. Rhododendron lovers are also in for a treat with several gardens featuring them.
A fantastic chance to wander in private gardens, visit a herbal learning garden and properties that grow flowers and food commercially.
Tickets $15 per adult, children are free. Available from Little River Craft Station from 12  September and can be purchased on both days of the event. If buying tickets on Eventfinda, a map and garden information will be emailed to you.
A community fundraiser supported by the Little River Wairewa Community Trust.   Contact Kathy email  matheson_grant@yahoo.co.nz
---
NOVEMBER 
---
1 November  2020– Sunday – ANNUAL SENIORS' HUI – You're Invited.  11 – 2pm at the Little River Wairewa  Marae.
This is the tenth anniversary so we hope to make it a special occasion.  We will be screening a short movie of the early days in Christchurch and Little River along with a photo board display of past events and people of Little River, plus a performance from the local Kapa Haka group and a celebratory cake.  There is a charge of $5 per person which includes tea, coffee  and a selection of finger foods for lunch.
RSVP to  Pam Baird on 03 325 1917
Little River Wairewa Runanga and Little River Wairewa Community Trust
---
7 November – Saturday – 2020  – MOTUKARARA FIREWORKS NIGHT – 5:30pm–10:00pm at Waihora Domain, 130 Park Road, Tai Tau. Suitable for all ages. Gate Sales only.
The Little River Volunteer Fire Brigade has taken over the running this event.  We would love to see you all, at this year's fireworks evening, held at Waihora Domain, Park Road, Motukarara.
This family event is for all ages to enjoy, we will have bouncy castles, pony rides, food available, live entertainment/music, free tractor hay rides, stalls & of course our amazing fireworks display to finish off the night. Bring your family & friends- car parking on site. $20 per car, $5 per person for walk in's
---
20, 21, 22 November 2020  –  THE DRUM FESTIVAL 2020 – at Little River Campground, 
287 Okuti Valley Rd, Little River.  A dedicated drum festival set in lush bush beside the Okuti River on Banks Peninsula.
The Drum Festival is a family orientated weekend festival of rhythm and dance, entertainment and education based on Banks Peninsula. Being the only dedicated festival of the drum in New Zealand it is a catalyst for the gathering of drum performers from throughout the South Island and beyond. Performances, workshops, two special evening gigs.
There  will be 50 performers from Africa, Asia, Cuba and South America, performing Taiko, samba, African dance and rhythms and an Indonesian Gamelan as well as two bands playing Friday and Saturday which is free for locals
Camp over or day pass.
---
BANKS PENINSUL WALKING FESTIVAL – held over four weekends in November.
---
November – LITTLE RIVER COMMUNITY BREAKFAST.  Held annually 9.00am to 12 noon at the Banks Peninsula Rugby Club Rooms, Awa-iti Domain, Little River.
The Little River Community join us for a delicious free breakfast with a selection of hot and cold food. A chance to catch up with friends, neighbours and family.
This year we incorporated the   Little River Wairewa BUSINESS EXPO showcasing local business people.  The CCC provided a Little River Playground Update, Pony's2Go Rides for the children and the Little River Wairewa Community Trusts Games Trailer.
---
DECEMBER
13 December 2020 – LITTLE RIVER COMMUNITY CAROLS –  Come along with your friends and family and bring a plate for supper.  7pm at the Little River Wairewa Marae. Christchurch to Akaroa Highway, Cooptown, Little River.
A combined Little River Churches event.  Anglican, Baptist and Catholic.  Feel free to phone
Kim and Christine Peters for further details 3251 099
---
1st January 2020 – Wednesday  – BANKS PENINSULA VINTAGE CAR CLUB NEW YEARS DAY PICNIC – at the Little River, Awa Iti Domain, from 11.00 am. The Cars will arrive from about 10am to 3pm.  Come along with your picnic lunch and check out  the lovely old cars on display.
Bring along your own vintage or classic car and join the display. Music by Mainland Big Band and lolly scramble for the children. Gold coin entry.
Enquiries to Ron Hassel 942 1105. bankspeninsula@vcc.org.nz